How Does CircleTalkTM Work?
CircleTalkTM trains professionals, caregivers, and others who are interested in working with older adults to disrupt the loneliness epidemic that contributes to their decline.
Guided by a 13-module field-tested curriculum, these trained leaders facilitate groups in virtual and face-to-face environments of all kinds. Each week, a thought-provoking theme is introduced with carefully selected poems, short stories, symbol cards, and other props, to inspire a lively discussion of shared memories and important life stories.
Join the movement against social isolation! Get trained today and together we can make a difference now.
Register today for training date that works best for you!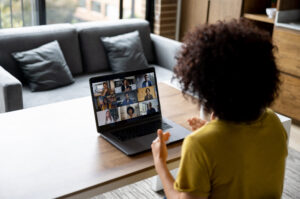 Virtual Learning – Five Modules, Two 90-Minute & One 2-Hour Live Coaching Calls – 1-2 Hours/Week – $495 USD
As a CircleTalk™ Leader, you will become trained to implement the CircleTalk™ Curriculum. This is available as an eBook or printed book, your preference. Our live, scheduled coaching meetings will give you an opportunity to get questions answered and participate in practice activities and view demonstrations of facilitation techniques.
Course Content:
Orientation to the CircleTalk™ Leader Course.
Module #1: Why social isolation is a widespread epidemic and how CircleTalk™ combats social isolation.
Module #2: The "Safety Framework" for building healthy groups, both virtual and face to face.
Module #3: Understanding leader presence, maximizing participation and engaging adults with mild cognitive challenges. Learn unique strategies for hosting and leading CircleTalk™ groups on virtual and face-to-face platforms.
Module #4: The importance of the CircleTalk™ Curriculum design in facilitating meaningful conversations and getting circles started.
Module #5: Integrate learning and graduation!
What you get as a course participant:
Weekly presentations and CircleTalk™ demonstration videos.
Two live coaching calls with CircleTalk™ Master Trainers for questions, practice and skill development.
The CircleTalk™ Action Guide—an invaluable tool for you far beyond the end of the course—will guide you through course Modules. At the beginning of each module, you will need to download and print the Action Guide for that module to easily follow along with tutorials and videos.
CircleTalk™ Curriculum, the first of three curriculum sets available to trained leaders. Each curriculum set contains 12 chapters with Circle descriptions, non-repeating activities and discussion themes.
A Leader "Kit" with supportive materials and activity props.
Two 30-minute consulting/coaching meetings – CircleTalk™ Master Trainers will support you to successfully start and sustain CircleTalk™ in any setting.
CircleTalk™ Field-Tested Curriculum
 The Curriculum is available in three distinct sections. When you register to become a CircleTalk™ Leader, a copy of the first section (chapters 1-12) is provided as part of your tuition, which is all you will need to begin conducting your own Circles.
Once you have completed your training, however, sections two (chapters 13-24) and three (chapters 25-36) will become available to you for $125 each should you wish to go deeper and offer your Circles additional weekly themes and activities. Once you get started with a group, they won't want it to end!